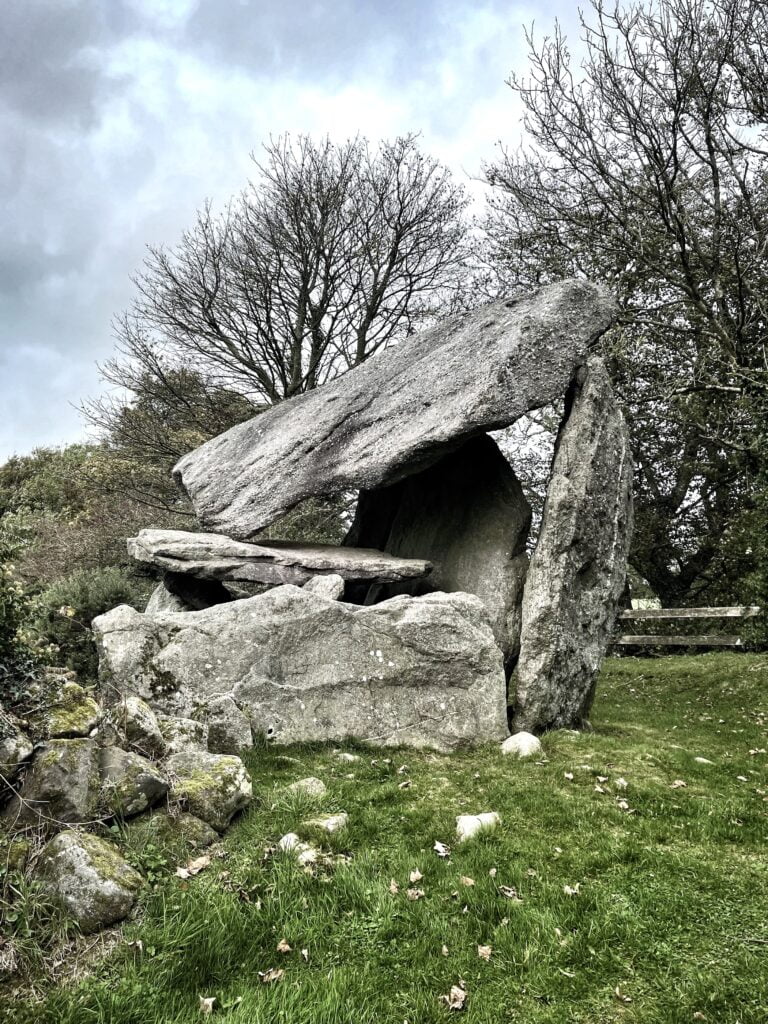 The Leac an Scail Dolmen (Stone of the Warrior/Hero)
I have to say, I'm yet to find a more impressive 'off the beaten track' portal tomb than this stunning site in County Kilkenny. Located in a hedgerow at the corner of a beautiful rolling pasture, this 5000 year old megalith stands on the slopes of Brown Mountain, not far from the picturesque town of Mullinavat.
Incredible Engineering
In researching the site I learned a new word – cantilevered – this describes the feat of engineering that gives Leac an Scail its very unusual shape. The enormous granite capstone rests on two portal stones and a pillow stone, which sits on the backstone. It is absolutely fascinating to observe this balancing act in person, made even more impressive by the sheer height of the structure – over four meters tall! The portal stones are aligned northeast towards sunrise on the summer solstice.
Local Legends
I found a couple of local legends about the site on dúchas.ie (the national folklore archive) – one says that a great king or warrior is buried beneath the tomb and that when it falls it will kill seven men. Another says that the dolmen was built overnight, that when the people who lived in the area went to bed it was not there, but when they awoke it had appeared. These are the kinds of legends that really set a site in its surroundings and I was delighted when I came across the stories.
Different Names
I also noticed that this site has a few different names. I've seen it called the Kilmogue dolmen and the Harristown dolmen as well as Leac an Scail, but they are all referring to the same place – just in case you run into any confusion when you're trying to find it!