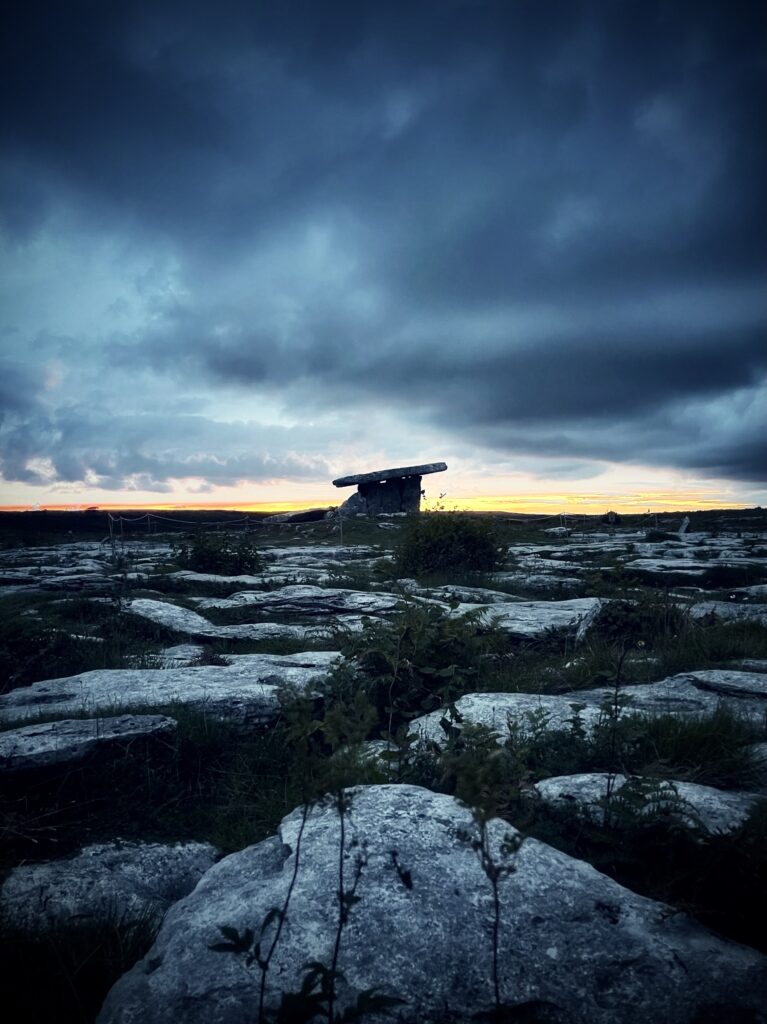 Tucked away in the magical, rocky landscape of the Burren in County Clare stands what has become the most photographed portal tomb in Ireland – the magnificent Poulnabrone dolmen.
It's easy to understand the fascination when you visit. Poulnabrone dolmen stands stark and lonely against its backdrop of limestone and sky, exuding an air of secrecy and majesty in its imposing size and dominance of the surroundings.
Archaeology
This magnificent structure is one of the oldest dated megalithic monuments in Ireland, with radiocarbon dating having shown that it was probably in use as a burial site between 3,800 and 3,200BC.
It is one of only a handful of Irish dolmens that have been archaeologically investigated, with past excavations having revealed the remains of around 30 people beneath the tomb along with personal possessions such as weapons, jewellery and pottery.
A Touching Discovery
In my opinion the most fascinating discovery at Poulnabrone Dolmen was made in 2020, when the remains of an infant laid to rest here over 5000 years ago were examined. It was found that this little boy had Down Syndrome, the earliest known case of this in the entire world. What is particularly moving about this discovery is that the child was well fed and cared for, offering us a unique glimpse into how disabilities may have been perceived by the Neolithic people of Ireland.
Conclusion
Poulnabrone dolmen truly is an amazing place that provides an incredibly vivid sense of the people who built it so long ago. If you find yourself in the area it is well worth a visit, especially if you can hang around for a glorious Burren sunset. I took this picture late in the summer last year, when I was lucky enough to have an evening with this beauty all by myself