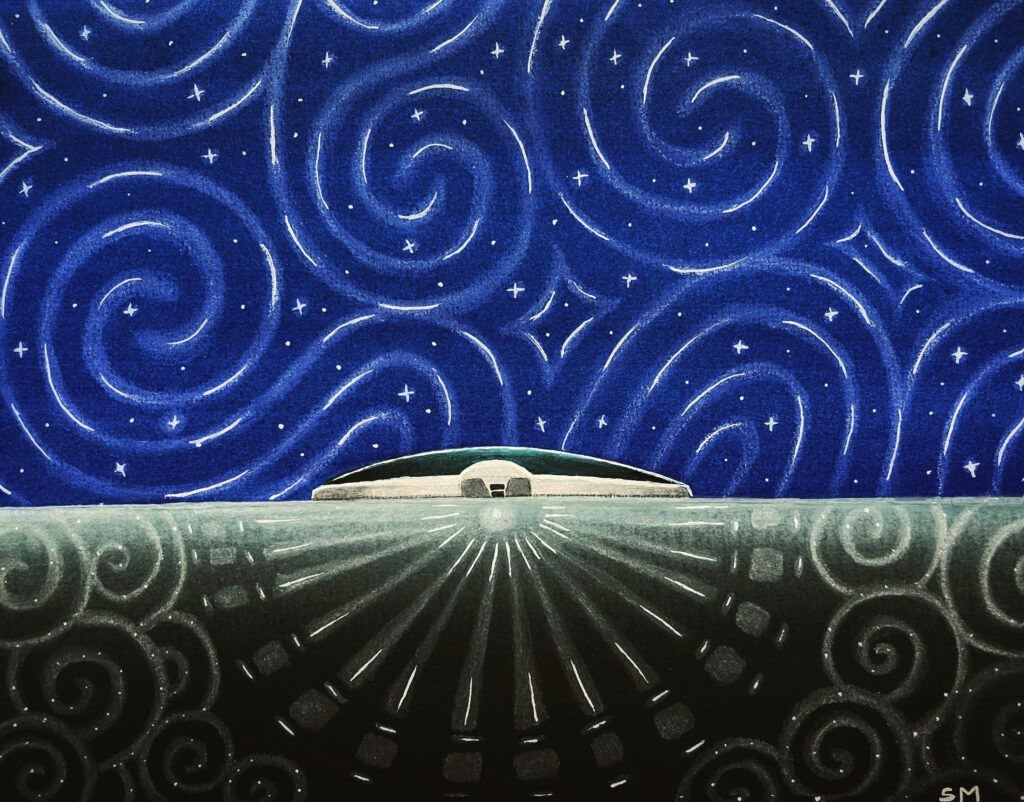 Grianstad an Gheimhridh – The Winter Solstice
In the Irish language the word for the solstice is "An Grianstad", which translates as "the sun stop". Many of us will stop to reflect this year on the poetic symbolism of the day, as we reach the point of longest dark and shortest light, looking forward to brighter days both physically and spiritually.
The Winter Solstice At Newgrange
Our ancestors marked the day in many ways, the most famous of which is at the great passage tomb of Newgrange, where the rising sun has flooded into the ancient passageway for millennia on the morning of the Winter Solstice.
This year I decided to paint a new, simple artwork in honour of this celestial event, inspired by the many amazing examples of Neolithic rock art that appear throughout this sacred site. It never ceases to amaze me how privileged we are to still be able to witness this ancient event here, 5000 years after it was built.
Brighter Days Ahead
The longest night is now upon us, after which our days will start to get brighter, leading us by the hand all the way to the height of summer. Such a simple, ordinary thing, but one of the greatest sources of natural magic that we could ever imagine. As we continue to battle the Pandemic, it seems more poignant than ever before that the promise of brighter days lies ahead.
I sincerely hope that you enjoy this Winter Solstice. I will be spending the evening watching the sun set at the Knockroe Passage Tomb in County Kilkenny, where the setting Solstice sun illuminates the beautiful Neolithic rock art on the back wall of the chamber. You will find all of the footage from the occasion on my Instagram and TikTok.
Warmest Wishes for 2022
Shelly